Liz Kaplan
Scharffen Berger Chocolate Maker
(510) 981-4065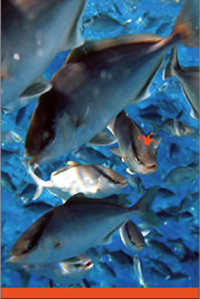 DARK CHOCOLATE, KONA BLUE, AND YOU
Passionfish Joins 18 Restaurants, Kona Blue, and Scharffen Berger Chocolate Maker to Celebrate Sustainable Seafood for our Second Annual Poisson d'Avril
("April Fish Day")

Oakland, CA - March 15, 2006
Count down to April 1st! By any measure, April Fool's Day is a fun day. Add chocolate and you have the lighthearted holiday known in France as "Poisson d'Avril" or "April Fish."
On April 1, 2006, Passionfish will be hosting our second annual dinner celebration of fish and mischief with 18 restaurants in Arizona, California, Oregon and Washington. This year's participating restaurants will be featuring on their menus Kona Kampachi™, an amazing fish made available by Kona Blue, the first sustainable fishery in the United States to grow fish in the open ocean from an integrated hatchery. Chefs at each restaurant will be designing their own special menus, and guests who order the fish will be treated to a chocolate confection -- with the chocolate donated by America's finest dark chocolate maker, Scharffen Berger.
"Scharffen Berger is excited to be part of this joint effort to encourage sustainable seafood," says Liz Kaplan, spokesperson for Scharffen Berger Chocolate Maker. "Passionfish has put together a great event that will combine fabulous food with a wonderful cause."
Kona Kampachi™ (Seriola rivioliana) is a sustainably raised sashimi grade fish. This Hawaiian yellowtail has a rich flavor and firm texture that lends itself to a variety of culinary applications. Kona Kampachi™ is healthy and pure, extremely rich in omega-3 fatty acids with no detectable mercury or PCBs. This is because this fish is nurtured from hatch to harvest, fed natural feed from sustainably managed fisheries, and grown in the Pacific Ocean off the coast of the Big Island of Hawaii, some of the cleanest water on Earth.
"We applaud Passionfish for their efforts to raise awareness of the environmental impact of seafood production by bringing people together in fun settings that feature quality sustainable seafood," said Michael Wink, CEO of Kona Blue. "We are thrilled that they have chosen Kona Kampachi™. We go to great lengths to supply our fish in a consistent and sustainable manner and very much appreciate Passionfish for recognizing our efforts."
"We connect sectors -- seafood business, restaurants, science, conservation, education, and the general public -- to create a flow of high-quality sustainable seafood products into the marketplace," says Passionfish Executive Director Carl Rebstock. "At the same time, we provide vibrant education so people can make informed choices about which fish to purchase. Celebrating the French tradition of Poisson d'Advril is an unthreatening way of introducing sustainability to the public. Add mouth-watering chocolate and a bunch of fun-loving restaurants, and you have an irresistible event."
Participating Restaurants:
California
La Folie & Left Bank Brasseries (San Francisco [Chef Roland Passot], Larkspur [Chef Richard Hodge], Menlo Park [Chef Jean-Claude Balek], Pleasant Hill [Chef Erik Romme], San Jose [Chef David Bastide], and San Mateo [Chef Quentin Topping])
Central Market Restaurant (Petaluma): Chef Tony Najiola
John Ash & Co. at Vintners Inn (Santa Rosa): Chef Jeffrey Madura
Zazu Restaurant (Santa Rosa): Chef Duskie Estes
Bistro Ralph (Healdsburg): Chef Ralph Tingle
Santa Rosa Junior College Culinary Arts Program (Santa Rosa): Chef Michael Salinger
Clementine Restaurant (San Francisco): Chef Didier Labbe
Le Theatre Restaurant (Berkeley): Chef Stephane Roy
Shadowbrook Restaurant (Capitola): Chef Ross McKee
The Marine Room at La Jolla Beach & Tennis Club (La Jolla): Chef Bernard Guillas
Arizona
Tapino Kitchen & Wine Bar (Scottsdale): Chef James Porter
Oregon
Celilo Restaurant (Hood River): Chef Ben Stenn
Washington
Oceanaire Seafood Room (Seattle): Chef Kevin Davis
Extra special thanks to Polly Legendre of La Gourmande private chef service and Renaud Garnier Design for their creativity, passion, talents, zest, energy--and time!
###

About us:
Passionfish is an innovative non-profit project that promotes sustainable fisheries and aquaculture through public education and stakeholder collaboration. Founded in 2000, Passionfish helps business and the public grasp the complex issues of seafood sustainability. Its programs include exhibitions, community education "Get the Dish on Fish" dinners, Poisson d'Avril events, live public forums, and consumer and children's education. Passionfish believes that everyone shares the same need for healthy global fish populations. We endeavor to bring diverse stakeholders together to troubleshoot and overcome obstacles to ocean sustainability. Our organization promotes unique business-conservation partnerships, builds solutions through productive dialogue, and inspires conservation through a cookbook series coupled with vibrant special events.
About Kona Blue:
Kona Blue is the first sustainable fishery in the United States to grow fish in the open ocean from an integrated hatchery. Three years ago, the company began culturing Kona Kampachi™ (or Seriola rivoliana), a delicious Hawaiian yellowtail fish. This fish is nurtured from hatch-to-harvest, fed natural feed from sustainably managed fisheries, and grown in some of the cleanest water on Earth. Kona Kampachi™ is healthy and pure, rich in healthy omega-3 fatty acids with no detectable mercury or PCBs. Kona Blue is committed to building an environmentally sustainable future through marine fish hatchery technology, natural feeds, and deep-ocean mariculture.
Recent articles about Kona Kampachi:
About Scharffen Berger:
Scharffen Berger Chocolate Maker was established in 1996 in San Francisco, Calif. Producing bean to bar premium chocolates, Scharffen Berger is one of the world's finest chocolate makers. All Scharffen Berger chocolates are composed of proprietary bean blends from up to nine different cacao-growing regions throughout the world and are manufactured in small batches in Berkeley, California. Scharffen Berger chocolate has received recognition throughout the U.S. and is sold in retailers nationwide as well as in Scharffen Berger's own retail locations in San Francisco, Berkeley and New York City. Scharffen Berger is part of the Artisan Confections Company, a wholly owned subsidiary of The Hershey Company.