PASSIONFISH CELEBRATES FOURTH ANNUAL POISSON D'AVRIL
No Foolin': Fish & Fine Chocolate Pair Up with Purpose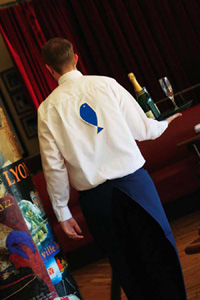 Tacoma, WA - April 1, 2008
Passionfish joins The Culinary Institute of America, Tapino Restaurant & Wine Bar, Tsar Nicoulai Caviar, Kona Blue Water Farms, Tobago Wild and Scharffen Berger Chocolate Maker to celebrate sustainable seafood for our fourth annual Poisson d'Avril.
By any measure, April Fool's Day is a fun day. Add fish-shaped chocolate and you have the lighthearted holiday known in France as "Poisson d'Avril" or "April Fish."
This week, joining Passionfish in hosting our fourth annual dinner celebration of fish and mischief will be The Culinary Institute of America (CIA) in Hyde Park, New York, and Tapino Restaurant & Wine Bar in Scottsdale, Arizona. At Tapino, Owner & Chef James Porter will be featuring on his menu fresh farmed sturgeon and caviar courtesy of Tsar Nicoulai while at The CIA these offerings will be joined by open-ocean raised Kona Kampachi courtesy of Kona Blue Water Farms and hand-trolled, line-caught fresh Wahoo from Tobago in the West Indies, courtesy of Tobago Wild.
At both venues, keeping with the French tradition of Poisson d'Avril, guests who order the seafood will be treated to a chocolate confection -- crafted from America's finest dark chocolate, courtesy of Scharffen Berger.
Our celebration's white sturgeon (and caviar), once common from Alaska to Mexico, is raised inland in pristine, aquifer-fed ponds. Only nine sturgeon farms operate worldwide; Tsar Nicoulai's northern California aquaculture operation is renowned for its innovations and quality.
"Global sustainability is more than a trend, it is imperative to the continuation of fish species worldwide, says Deborah Keane, VP of Sales & Operations at Tsar Nicoulai. "By partnering with Passionfish in their Poisson d'Avril event, Tsar Nicoulai Caviar reaffirms our shared commitment to promoting and educating sustainable seafood practices."
These sentiments are echoed by Kona Blue Water Farms, a sustainable open-ocean aquaculture operation proud to proclaim the husbandry of their Hawaiian yellowtail fish spans from "hatch to harvest." Similarly, Tobago Wild prides itself on fostering practices that protect the future of the ocean's fishes and the livelihoods of those fishermen whose families depend on the fragile coastal economy of the remote fishing villages of Tobago.
This year, Passionfish's Poisson d'Avril will include an educational forum on seafood sustainability that is free and open to the public. Panelists include Charles Yarish, Ph.D., of the University of Connecticut, who is a renowned world expert on ecosystem-based aquaculture (integrated multi-trophic aquaculture); Sylvia Dow of Kona Blue Water Farms; Daniel Dimin of Tobago Wild; Passionfish's Gerard Viverito; Dane Klinger from the Blue Ocean Institute; and a local Hudson Valley vintner.
The discussion will be held on Saturday, April 5th, in the Danny Kaye Theatre on the CIA Hyde Park campus from 5:00 p.m. to 7:00 p.m. The dinner event begins at 7:00 p.m. and is on a space-available basis.
Faculty member and Passionfish Director of Culinary Education, Chef Gerard Viverito, CEC, says, "We are thrilled to introduce students to the pressing nature and important subtleties associated with the issue of sustainability. With this event we can all enjoy ourselves while re-examining topics explored previously in the classroom and kitchen. This celebration is equal parts pedagogy and party!"
"Passionfish revels in discovery," says Passionfish Executive Director Carl Rebstock. "Where others find sanctuary in the company of like minds, we invite the tumult that diverse opinions bring to a discussion. How else to confront multi-faceted problems but with multi-stakeholder participation? In the end, we invariably find that at the center of contentious topics are shared passions from which to move forward together in new and promising directions. Celebrating the French tradition of Poisson d'Avril is just such an non-threatening way of engaging the public in critical thinking while encouraging positive action."
Restaurants donate proceeds from the event to help support Passionfish's public education efforts. Recipes from these supporting restaurants are included in the sustainability group's upcoming cookbook series, "Passionfish! A Celebration of Seafood from the Ocean to the Plate."™
This year, Passionfish will donate proceeds from the New York event to the Institute in support of the student group "Chefs Sustaining Agriculture." And, the society Chaine des Rotisseurs is generously matching our donation to the student group.
Restaurants participating in the fun-and-fish-filled holiday are:
Caviar Cafe, San Francisco Ferry Plaza (Tsar Nicoulai)
Tapino Kitchen & Wine Bar, Scottsdale (Chef James Porter)
The Culinary Institute of America, Hyde Park, New York (Chef Gerard Viverito & students)
(See menu of The CIA/Passionfish event by clicking here)

About us:
Passionfish, a project of The Tides Center, is a catalyst for positive change. Passionfish is an innovative non- profit project that promotes sustainable fisheries and aquaculture through public education and stakeholder collaboration. Founded in 2000, Passionfish helps business and the public grasp the complex issues of seafood sustainability. Its multi-media programs include exhibitions, community education "Get the Dish on Fish" dinners, Poisson d'Avril events, live public forums, its Ocean Commotion blog, and consumer and children's education. Passionfish believes that everyone shares the same need for healthy global fish populations. We endeavor to bring diverse stakeholders together to troubleshoot and overcome obstacles to ocean sustainability. Our organization promotes unique business-conservation partnerships, builds solutions through productive dialogue, and inspires conservation through a cookbook series coupled with vibrant special events. As a volunteer-run organization, 100% of proceeds raised go directly to public education programs. Its cookbook series, "Passionfish! A Celebration of Seafood from the Ocean to the Plate" is in development! Help us achieve seafood sustainability!
About Scharffen Berger Chocolate Maker
Scharffen Berger Chocolate Maker was established in 1996 in San Francisco, Calif. Producing bean to bar premium chocolates, Scharffen Berger is one of the world's finest chocolate makers. All Scharffen Berger chocolates are composed of proprietary bean blends from up to nine different cacao-growing regions throughout the world and are manufactured in small batches in Berkeley, Calif. Scharffen Berger chocolate has received recognition throughout the U.S. and is sold in retailers nationwide as well as in Scharffen Berger's own retail locations in San Francisco, Berkeley and New York City. Scharffen Berger is part of the Artisan Confections Company, a wholly owned subsidiary of The Hershey Company.
At Tsar Nicoulai Caviar we pride ourselves in providing caviar of impeccable quality which is produced ecologically and responsibly. Caviar is an experience steeped in centuries of tradition. It emanates luxury and royalty, and is recognized as such around the world. Today, wild sturgeon stocks are declining as over-fishing, poaching, and pollution have taken their toll. As pioneers of sturgeon farming, we have developed truly sustainable domestic caviar that rivals classic imports. We oversee every aspect from raising the white sturgeon (Acipenser transmontanus) to processing its roe which allows us to exert standards of quality control not to be matched. Our caviar is sure to exceed the expectations of even the most discriminating connoisseur.
Kona Blue is the first sustainable fishery in the United States to grow fish in the open ocean from an integrated hatchery. Three years ago, the company began culturing Kona Kampachi™ (or Seriola rivoliana), a delicious Hawaiian yellowtail fish. This fish is nurtured from hatch-to-harvest, fed natural feed from sustainably managed fisheries, and grown in some of the cleanest water on Earth. Kona Kampachi™ is healthy and pure, rich in healthy omega-3 fatty acids with no detectable mercury or PCBs. Kona Blue is committed to building an environmentally sustainable future through marine fish hatchery technology, natural feeds, and deep-ocean mariculture.
Established in 2004, the Dimin family have built a HACCP-certified processing plant, struck up partnerships with more than 100 independent fishermen on Tobago, and now overnight hand-trolled, line-caught fish from Tobago in the West Indies to New York City. Our fishing families' catch—plentiful, and in no danger of extinction in the pristine bountiful waters of the Caribbean—is now served at top restaurants throughout greater New York City.