Passionfish Co-Hosts 100th Birthday Bash for Scripps Institution of Oceanography, September 25, 2003
Passionfish and the San Diego Gastronomically Correct Chefs salute Scripps' century of education about ocean sustainability
and host a feast of sustainable seafood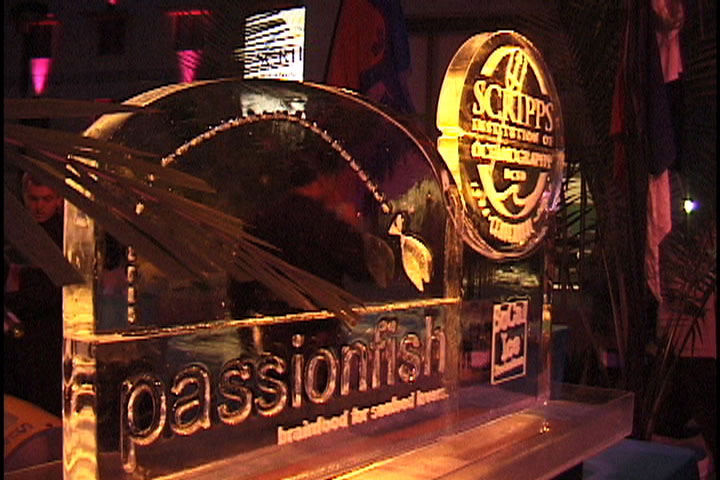 Incredible ice sculpture created by SoCal Ice
Oakland, CA - August 15, 2003
September 25 marks one hundred years of scientific and engineering achievement for the Scripps Institution of Oceanography. Passionfish is celebrating their efforts to educate the public and raise awareness about our ocean by co-hosting their centennial birthday bash that night.
Joining Passionfish are the San Diego Gastronomically Correct Chefs -- all chefs who have been honored with the invitation to cook at the world famous James Beard House in New York.
Hundreds of invited guests will gather oceanfront on the newly dedicated Pawka Green to celebrate the centennial. Chefs will provide their tantalizing culinary creations made of sustainable seafood and other extraordinary delectables. Passionfish is providing education on environmentally sustainable seafood to match the menu which will have several selections carrying the Marine Stewardship Council's eco-label. Each participating chef recognizes that a sustainable ocean means a sustainable business.
"As chefs, this complex issue of sustainability should be high on our agenda," says Bernard Guillas, Executive Chef at The Marine Room. "Showcasing sustainable cuisine in our restaurants and working closely with reliable seafood sources is a way to take part and promote ecological balance."
The evening bash follows a one-of-a-kind forum organized by Passionfish at the Oceans 2003 conference. The forum will bring together diverse experts to work cooperatively toward solving problems in fisheries and seafood sustainability.
The forum will be held Thursday, September 25, 1:30 p.m. - 4:00 p.m. in the Terrace Pavilion, Town & Country Resort Hotel, 500 Hotel Circle North, San Diego, in Mission Valley. Admission is free and open to the public.
About us: Passionfish is for people passionate about the ocean, fishing, and seafood! We are a nonprofit public education project actively promoting sustainable wild fisheries and aquaculture. Founded in 2000, Passionfish has developed an innovative approach for addressing seafood and fisheries sustainability: forums that reveal common ground amid contention, celebrations of seafood, broadcasts that build awareness, and a unique book series aimed at inspiring adults and children about ocean and seafood sustainability.
Click here to see the official menu
Click here to download our celebratory and educational booklet

Participating chefs
TOM ATKINS L'Auberge Del Mar and J. Taylor's
RIKO BARTOLOME Chef/Consultant
MICHAEL CIMARUSTI Water Grill (Los Angeles)
TOM DOWLING Rancho Bernardo Inn
AMIKO GUBBINS Parallel 33
BERNARD GUILLAS The Marine Room
PAUL MCCABE Anthony's Star of the Sea
ANDREW RYLAND SPURGIN Waters Fine Catering
MARYJO TESTA Laurel Restaurant & Bar
PASCAL VIGNAU Savory
STEPHEN WINDOW Roppongi
Passionfish Forum at Oceans 2003, September 25
Marine Stewardship Council
Oceans 2003
Scripps Institution of Oceanography
San Diego Gastronomically Correct Chefs