ATTENTION WHOLE FOODS' SHOPPERS!
Shop Wednesday July 17, 4-8p.m.
to support Fish and Fishing!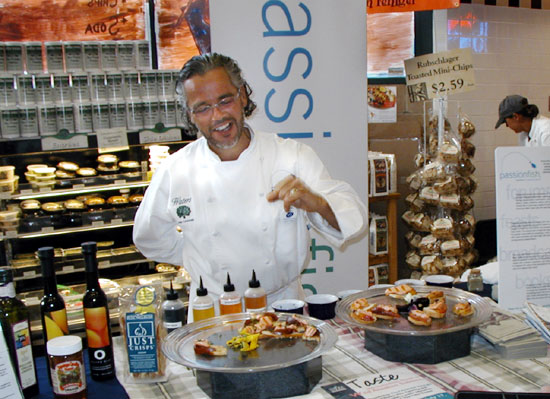 Photograph by Alfred Pagano
San Diego, CA – July 10, 2002. Whole Foods Market is generously donating to Passionfish 5 percent of its Hillcrest (San Diego) store's profits on a "Fish for Our Future" day. Purchases made throughout the store on Wednesday, July 17 will help Passionfish hold its public education forums on the highly charged issues of fishery and seafood sustainability. The Passionfish public forums will be held in San Diego, as well as throughout the region and across the North American West Coast, including Alaska and Hawaii. The non-profit's mission is to increase support for solving and understanding fishery conservation issues through inclusive forums and unprecedented partnerships.
"At the root of the Passionfish strategy is the need for conversation," says Andrew Ryland Spurgin, Director of Education and Events for Passionfish. "Our approach which includes live and online forums, educational curricula, seafood cooking demonstrations and cookbooks, and more, builds trust by getting people talking to one another about the complex issues surrounding both enjoying and conserving our fishery resources."
At the Whole Foods Market, Hillcrest, on both Wednesday, July 17, and Saturday, July 20, Spurgin will prepare one of his recipes using Marine Stewardship Council (MSC) certified sustainable wild-caught Alaskan salmon. Spurgin will talk about seafood sustainability and give away printed copies of his recipes that are perfect summertime choices: Wild Alaskan Salmon with Heirloom Tomatoes and Summer Salad; and Grilled Wild Alaskan Salmon and White Peaches with Orange Blossom Honey. Spurgin is also the Executive Director of Waters Fine Catering in San Diego.
Through the end of July, Whole Foods encourages customers to "Fish for Our Future" by purchasing seafood with the MSC seal of approval. Information about the criteria the MSC uses in assessing and certifying a fishery can be found on its website, www.msc.org.
Passionfish was founded in 2000 to confront the real and perceived problems and promises in fisheries. Its inventive approach includes forums that reveal common ground amid contention, feasts that celebrate seafood, broadcasts that build awareness, and books that highlight the efforts of many people who are working hard to save the seas. The organization is accepting donations to support its campaign. See www.passionfish.org for more information.
Whole Foods Market, Hillcrest, is conveniently located with ample parking at 711 University Avenue, San Diego. Shop Wednesday, July 17, to support Passionfish!