GRAND OPENING OF PASSIONFISH STORE IN TIME FOR HOLIDAY GIFT-GIVING SEASON!
OUR FIN-TASTIC APPAREL IS NOW AVAILABLE ALL YEAR 'ROUND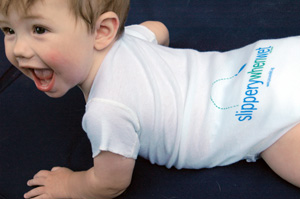 Oakland, Calif - November 18, 2004
That's right, we've responded to your demands. It's now easier than ever to snag our very swanky stuff. No more emergency calls in the middle of the night to Passionfish Central: Just tickle the adorable Pfishy above to get your fix of ocean-fun apparel, online, anytime.
We are seeing more people sporting our 100% cotton t-shirts and hats and carrying our super-useful totes over land and sea. Why? Because not only is our stuff snazzy, Passionfish -- by definition -- means you love fish, good seafood, and marine conservation. Our unique projects include cookbooks, seafood/ music festivals, public forums, cooking demonstrations, and childrens' education.
Passionfish clothes and accessories are perfect holiday gifts, too. Little elves look adorable from every direction in our baby onesies. And our giant tote bags make light work of hefting home even the biggest Butterball turkey or smoked salmon.
As a grassroots, volunteer-run organization, all money we raise directly supports Passionfish projects. Your purchase is tax deductible with the added benefit that your wardrobe becomes inarguably hip. Go ahead, tickle our cute Pfishy above to surf into our store. Your transaction is safe, secure, and greatly appreciated!
[Passionfish is a verified PayPal merchant, ensuring your security and ours as we together do business on behalf of the ocean.]
We have exciting plans in 2005 that involve YOU, so stay tuned!
###

About us: Passionfish is an innovative non-profit project that promotes sustainable fisheries and aquaculture through public education and stakeholder collaboration. Founded in 2000, Passionfish helps business and the public grasp the complex issues of seafood sustainability. Our programs include exhibitions, community education "Get the Dish on Fish" dinners, live public forums, and consumer and children's education.
Passionfish believes that everyone shares the same need for healthy global fish populations. We endeavor to bring diverse stakeholders together to troubleshoot and overcome obstacles to ocean sustainability. Our organization promotes unique business-conservation partnerships, builds solutions through productive dialogue, and inspires children through experiential learning. Match your passion with cash--please support Passionfish.