PASSIONFISH HELPS PEOPLE "GET THE DISH ON FISH" AT MACY'S SCHOOL OF COOKING

Passionfish's Grassroots Education Helps People Make Informed Decisions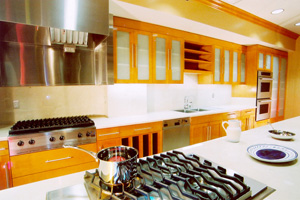 View of the kitchen at Macy's School of Cooking in San Diego
San Diego , CA - July 26, 2004
As part of Passionfish's public education "Get the Dish on Fish" program, we will be joining with the Macy's School of Cooking this Thursday night, July 29, in San Diego. Andrew Spurgin, co-founder of Passionfish as well as the executive director for Waters Fine Catering, teams up with long-time Passionfish'er Amiko Gubbins of Parallel 33. Chef Gubbins was named 2003 "Chef of the Year" by the San Diego Chapter of the California Restaurant Association.

For their "Fish 101," the fun-loving Amiko-Andrew duo will be working with guests to prepare three seafood recipes: tamarind ginger mussels, grilled Alaskan salmon with peaches and orange blossom honey, and whole striped sea-bass baked in sea salt with a citrus scallion sauce.

Passionfish celebrates sustainable cuisine through its vibrant "Get the Dish on Fish" events that take place in cooking schools, at restaurants, outdoor markets, grocery markets, and other special places. Our program's purpose is to help people prepare and enjoy seafood while building communities of informed citizens.

"We're all about public education, not proselytizing," says Chef Andrew. "More and more, people are coming to us with questions about the nutritional and ecological health of their seafood. We don't tell people what to eat or what not to eat. Instead, we help people make informed choices about what they want to eat. Our "Get the Dish on Fish" events are perfect venues for us to talk candidly about their concerns while whipping up a fantastic and easy-to-prepare meal."

Passionfish is working closely with a network of chefs across the West Coast and elsewhere, all who want to protect the ocean while protecting food choices. Their incredible recipes will fill the Passionfish cookbook on sustainable cuisine.

Please check out this review of Chef Amiko's "very hip and now" Parallel 33.

Don't miss this entertaining and enlightening event, July 29, 6-8 p.m. Macy's School of Cooking is located at 1555 Camino del Rio North in the Mission Valley Center. The class will be held on Level 2. Call 1-888-424-FOOD (-3663) for reservations. Cost is $25 per person. See our calendar listing for a map to this culinary event.

About us: Passionfish is for people passionate about the ocean, fishing, and seafood! We are a nonpartisan, nonprofit public education project actively promoting sustainable wild fisheries and aquaculture. Founded in 2000, Passionfish has developed an innovative approach for addressing seafood and fisheries sustainability: forums that reveal common ground amid contention, celebrations of seafood, broadcasts that build awareness, and a unique book series aimed at inspiring adults and children about ocean and seafood sustainability. Please support us today!
Passionfish: www.passionfish.org