SEASONED GREETINGS FROM SANTA SALMON
CELEBRATE SEAFOOD FROM THE OCEAN TO THE PLATE!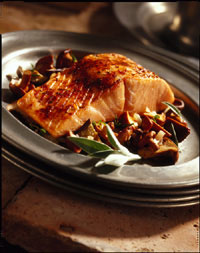 Oakland, CA - December 07, 2005
As the holidays approach, many folks wind down--not Passionfish. We are as wound up as Santa's elves! In the final stages of producing our sustainable seafood cookbook, we'd
like to tell you about the project, our team, and sponsorship opportunities.
"Passionfish! A Celebration of Seafood from the Ocean to the Plate" will be completed fall 2006 and distributed nationwide. Our book includes easy-to-prepare recipes of dozens of seafood species, selected for passing the muster of all rigorous seafood sustainability criteria. Accompanying the recipes are beautiful color photographs like the image above by our team member Diane Padys. See delicious recipe below. Check out Diane's award-winning food photography by clicking here.
Gerard Viverito, C.E.C., reawakens seafood cookery with a host of fresh recipes inspired by his world travels. He is also managing the recipes of contributing chefs. Gerard is Passionfish's Director of Culinary Education and he is on the faculty of the prestigious Culinary Institute of America in Hyde Park, NY. Chef Gerard is a media spokesman on seafood sustainability; he has hosted cooking demonstrations for Sur La Table and Passionfish; and he runs his own sustainable foods catering company, Chef de Cuisine Fine Catering.
Passionfish advisor and highly regarded fisheries expert and commentator Brad Warren is a contributing writer on the sustainability and selection of seafood; and author Brad Matsen has penned eloquent and lively profiles of the species we've selected. Our book will include nutritional analyses and a guide to seafood companies "doing the right thing."
"Passionfish! A Celebration of Seafood from the Ocean to the Plate" demystifies seafood sustainability while making cooking fish fun again. It does so with humor, optimism, and simplicity. The book has an aggressive marketing and distribution plan to reach consumers nationwide. In the book we will prominently recognize those who sponsor the project, as well as include investors in our public outreach and promotions. Individuals and companies interested in investing in the project, please contact project manager Patti Parisi.
We just received some wonderful coverage about our organization and our book project in the December issue of Bay Area Business Woman News, a newspaper that reaches 50,000 people. The paper is also available at newsstands throughout the Bay Area. We provided some retail sources of sustainable seafood in the Bay Area including Monterey Fish Market in Berkeley, Marketplace Hall in Oakland, Whole Foods, and Andronicos.
Recipe for Garlic and Sage-Rubbed Salmon with Chanterelle Mushroom Ragout
by Gerard Viverito, C.E.C., Passionfish! co-author
Garlic & Sage Rub
2 tablespoons olive oil
4 medium garlic cloves, thinly sliced
1 tablespoon coriander seeds, finely ground
1/4 teaspoon freshly ground black pepper
1 tablespoon thinly sliced fresh sage leaves
1/2 cup apple cider vinegar
Chanterelle Mushroom Ragout
1 1/2 pounds mushrooms (you may substitute shiitake), some whole, some julienne
kosher salt
freshly ground black pepper
1/4 cup extra virgin olive oil
1 tablespoon fresh rosemary, chopped
2 tablespoons fresh thyme, chopped
3 cloves garlic, minced
Salmon
4 (6-ounce) salmon fillets
2 tablespoons olive oil
kosher salt
To make the rub:
Combine the oil and garlic in a small, heavy-bottomed saucepan. Place over low heat and cook until the garlic is aromatic, 1 to 2 minutes. Add the ground coriander and black pepper, cook 1 minute, stirring constantly. Add the sage and cider vinegar, bring to a simmer, and cook until reduced and thickened to a paste, 1 to 2 more minutes. Remove from the heat, transfer to a non-reactive bowl, and cool completely.
To prepare salmon:
Use your fingers to rub the salmon with the cooled paste. Cover and keep chilled for 2 hours.
To make ragout:
Heat the oil over medium heat in a sauté pan large enough to hold mushrooms. Place garlic in pan and cook until light brown in color, add mushrooms and herbs, and cook gently until well browned.
To prepare dish:
Heat the oil over medium heat in a sauté pan large enough to hold the 4 fillets. Sprinkle the salmon with salt, place them in the pan, rub side down first, and cook gently until well browned, turn over to cook through, 3 to 4 minutes per side. Transfer the salmon to warm plates and serve with the warm ragout.
###

About Passionfish
Passionfish is an innovative non-profit project that promotes sustainable fisheries and aquaculture through public education and stakeholder collaboration. Founded in 2000, Passionfish helps business and the public grasp the complex issues of seafood sustainability. Its programs include exhibitions, community education "Get the Dish on Fish" dinners, Poisson d'Avril events, live public forums, and consumer and children's education. Passionfish believes that everyone shares the same need for healthy global fish populations. We endeavor to bring diverse stakeholders together to troubleshoot and overcome obstacles to ocean sustainability. Our organization promotes unique business-conservation partnerships, builds solutions through productive dialogue, and inspires children through experiential learning.
About Bay Area Business Woman News
Bay Area Business Woman News s an independently-owned and -operated publication serving seven local Bay Area counties. Founded in October 1993 by businesswoman Anna Marks, their goal is to build and bridge an economically viable women's community through its print publication, website and face-to-face networking. BABW News believes in commerce with a conscience and promotes an educational, social and political agenda to advance the status of women and girls. Throughout the year, BABWNews works with many women's business groups and highlights local female industry experts, as well as sponsors many nonprofit fundraising events. The newspaper is available from Santa Rosa to San Jose, and reaches over 50,000 diversified, well-educated, active and involved business and professional women every month.