PASSIONFISH CELEBRATES THIRD ANNUAL POISSON D'AVRIL
Dark Chocolate, Farmed Sturgeon, Wild Scallops, and You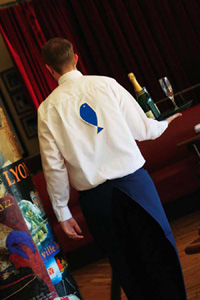 Sonoma, CA - March 21, 2007
Joining Passionfish in its popular annual celebration of Poisson d'Avril or "April Fish Day" are 16 restaurants, Tsar Nicoulai, Glaciar Pesquera/Clearwater Seafoods , and Scharffen Berger Chocolate Maker.
It's just days before April 1st! By any measure, April Fool's Day is a fun day. Add chocolate and you have the lighthearted holiday known in France as "Poisson d'Avril" or "April Fish."
Throughout the weekend of April 1, 2007, Passionfish will be hosting our third annual dinner celebration of fish and mischief with 16 restaurants in Arizona, California, and Oregon. This year's participating restaurants will be featuring on their menus fresh farmed sturgeon courtesy of Tsar Nicoulai and wild-caught Patagonian scallops courtesy of Glaciar Pesquera/Clearwater Seafoods.
Chefs at each restaurant will be designing their own special menus, and guests who order the featured seafood will be treated to a chocolate confection -- with the chocolate donated by America's finest dark chocolate maker, Scharffen Berger.
"Sustainable food, including wild and farmed fish, are very important to us at Left Bank, La Folie and Tanglewood," says owner Roland Passot. "We believe in educating and promoting these unique practices and inspiring others from chefs to guests to learn about and support these efforts. We are committed to helping build an environmentally sustainable future for our oceans."
The white sturgeon, once common from Alaska to Mexico, is raised inland in pristine, aquifer-fed ponds. Only nine sturgeon farms operate worldwide; Tsar Nicoulai's northern California aquaculture operation is renowned for its innovations and quality.
The Patagonian scallop is harvested wild by Glaciar Pesquera from icy, dark depths off the coast of Argentina. Restaurant guests can count themselves among the very first to taste the world's only scallop awarded Marine Stewardship Council eco-certification.
"Global sustainability is more than a trend, it is imperative to the continuation of fish species worldwide, says Deborah Keane, VP of Sales & Operations at Tsar Nicoulai. "By partnering with Passionfish in their Poisson d'Avril event, Tsar Nicoulai Caviar reaffirms our shared commitment to promoting and educating sustainable seafood practices."
According to Colin MacDonald, CEO of Clearwater Seafoods: "We want to ensure our corporate philosophies are reflected on our products and the MSC eco-label (now on our Argentinean scallops) demonstrates our commitment to the environment. It also allows the increasing numbers of eco-conscious consumers to choose products that are harvested in a sustainable manner and will be around for years to come."
"We connect sectors--seafood business, restaurants, science, conservation, education, and the general public--to create a flow of high-quality sustainable seafood products into the marketplace," says Passionfish Executive Director Carl Rebstock. "At the same time, Passionfish provides vibrant education so people can make informed choices about which fish to purchase. Celebrating the French tradition of Poisson d'Avril is an unthreatening way of introducing sustainability to the public. Add mouth- watering chocolate and a bunch of fun-loving restaurants, and you have an irresistible event."
The restaurants donate proceeds from the event to help support Passionfish's public education efforts. Recipes from the supporting restaurants are included in the sustainability group's upcoming cookbook series, "Passionfish! A Celebration of Seafood from the Ocean to the Plate."™
Restaurants participating in the fun-and-fish-filled holiday weekend are:
CALIFORNIA
Bistro Ralph, Healdsburg (Chef Ralph Tingle)
Caviar Cafe, San Francisco Ferry Plaza (Tsar Nicoulai)
Central Market Restaurant, Petaluma (Chef Tony Najiola)
John Ash & Co. at Vintners Inn, Santa Rosa (Chef Jeffrey Madura)
La Folie & Left Bank Brasseries (Chef/ Owner Roland Passot and Executive Chef Joel Guillon in San Francisco, Larkspur, Menlo Park, Pleasant Hill, San Jose, and San Mateo)
Ocean Avenue Seafood, Santa Monica (Chef Silvano Mestas)
Shadowbrook Restaurant, Capitola (Chef Ross McKee)
The Marine Room at La Jolla Beach & Tennis Club, La Jolla (Chef Bernard Guillas)
Zazu Restaurant, Santa Rosa (Chef Duskie Estes)
ARIZONA
Tapino Kitchen & Wine Bar, Scottsdale (Chef James Porter)
OREGON
Celilo Restaurant, Hood River (Chef Ben Stenn)
Extra special thanks to Polly Legendre of La Gourmande private chef service and Renaud Garnier Design for their generous support.

About us: Passionfish is an innovative non-profit project that promotes sustainable fisheries and aquaculture through public education and stakeholder collaboration. Founded in 2000, Passionfish helps business and the public grasp the complex issues of seafood sustainability. Its programs include exhibitions, community education "Get the Dish on Fish" dinners, Poisson d'Avril events, live public forums, and consumer and children's education. Passionfish believes that everyone shares the same need for a healthy global fish population, and endeavors to bring diverse stakeholders together to troubleshoot and overcome obstacles to ocean sustainability. The organization promotes unique business-conservation partnerships, builds solutions through productive dialogue, and inspires conservation through a cookbook series coupled with vibrant special events. Its cookbook series, "Passionfish! A Celebration of Seafood from the Ocean to the Plate" will be forthcoming in 2007! Help us achieve seafood sustainability!
About Scharffen Berger Chocolate Maker
Scharffen Berger Chocolate Maker was established in 1996 in San Francisco, Calif. Producing bean to bar premium chocolates, Scharffen Berger is one of the world's finest chocolate makers. All Scharffen Berger chocolates are composed of proprietary bean blends from up to nine different cacao-growing regions throughout the world and are manufactured in small batches in Berkeley, Calif. Scharffen Berger chocolate has received recognition throughout the U.S. and is sold in retailers nationwide as well as in Scharffen Berger's own retail locations in San Francisco, Berkeley and New York City. Scharffen Berger is part of the Artisan Confections Company, a wholly owned subsidiary of The Hershey Company.
At Tsar Nicoulai Caviar we pride ourselves in providing caviar of impeccable quality which is produced ecologically and responsibly. Caviar is an experience steeped in centuries of tradition. It emanates luxury and royalty, and is recognized as such around the world. Today, wild sturgeon stocks are declining as over-fishing, poaching, and pollution have taken their toll. As pioneers of sturgeon farming, we have developed truly sustainable domestic caviar that rivals classic imports. We oversee every aspect from raising the sturgeon to processing its roe which allows us to exert standards of quality control not to be matched. Our caviar is sure to exceed the expectations of even the most discriminating connoisseur.
About Clearwater Seafoods
Clearwater is recognized for its consistent quality, wide diversity and reliable delivery of premium seafood, including scallops, lobster, clams, cold water shrimp, crab and ground fish. Since its founding in 1976 Clearwater has invested in science, people, technology, resource ownership and resource management to preserve and grow its seafood resource. This commitment has allowed it to remain a leader in the global seafood industry.